We teach digital nomads, bloggers and small businesses how to drive traffic to their sites and grow their brands with advanced social media marketing techniques, website optimization and other content strategies.
Learn how to rock on social media today with our guide: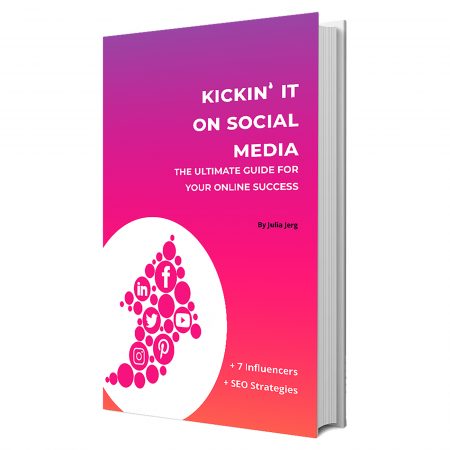 OUR EBOOK
Kickin' It On Social Media
Want to know how we help our clients to strategically use social media marketing to constantly grow their social profiles and get seen by their REAL customers? The book explains, in full detail, what platforms works for which marketing intention and why it works.
7 CHAPTERS OF 7 SUCCESSFUL INFLUENCERS INCLUDED
---
SEE WHAT OTHERS ARE SAYING ABOUT OUR BOOK
To start thinking of social media as a tool for your business when you've been using it on a personal level most of your life is a challenge. But this book helps you put on your entrepreneur hat and pushes you to think strategically. It's not the "follow my formula and it will happen to you too" method at all — Julia explains the mechanics behind each platform, so it's up to you to decide which social media outlets work for you and your audience.
The book allowed me to rethink my Instagram strategy (which took me a while to implement because "killing your darlings" is not easy). It also allowed me to celebrate my small wins with Pinterest and Facebook (yes! not dead!), realizing it wasn't "just luck".
Sandra Henriques Gajjar / Tripper
When I started taking Julia's advice on social media marketing I had 40 twitter followers and 70 Instagram followers. In less than half a year, my numbers increased 10 times and engagement followed!
I purchased the Social Media Guide the day it was launched as it is the best tool out there to make sure I stay on top of the game. It contains answers to all the questions I still had, and to many more I did not know I had to ask. The best purchase I did this year!
Anca Tigan / Dream, Book, and Travel
Read the whole book already. Awesome content in a nicely organised format 🙌
Philip Thomas / Member of our FB Group