If you have come this far, it is because you want to develop your personal and professional skills. For this, I bring you this review of MasterClass and Mindvalley, two platforms where it is very likely that you can get what you are looking for. I will explain the key points of each one, including the courses and instructors that you can access.
And so you can quickly establish a comparison, in each section, I will talk to you simultaneously about both platforms. In the end, I will leave you my general assessment based on this MasterClass and Mindvalley review.
Related: Mindvalley Academy Review
What Is The Essence Of Mindvalley And MasterClass?
I have always had a great curiosity for knowledge. And I know of many people who share this personal characteristic. I remember that the first courses I did were in language. Later, I became interested in affiliate marketing courses. And now, I like those that deal with mediation and yoga.
Since then, I have tried different teaching-learning platforms, and this is the Mindvalley Quest and MasterClass opportunity.
Mindvalley's Quests
This is one aspect where the MasterClass and Mindvalley review finds a difference. According to Vishen Lakhiani, founder of Mindvalley, this is a company designed to help people achieve a more rewarding life.
Based on this, it is that they design their courses, which they call quests. Well, they consider that each one of us should be concerned with finding our balance with the world.
Each quest helps build that path. Whether it be developing mental capacities, or creating skills such as concentration and relaxation in us. For this, Lakhiani included "Quests" as part of the company name.
So personal development is the essence of Mindvalley courses. And consequently, it is the very essence of the company. However, they focus primarily on developing a healthy mind in a healthy body and on spirituality. As a gateway, this makes the platform attractive to any digital nomad, even when having a family.
Creativity Belongs To MasterClass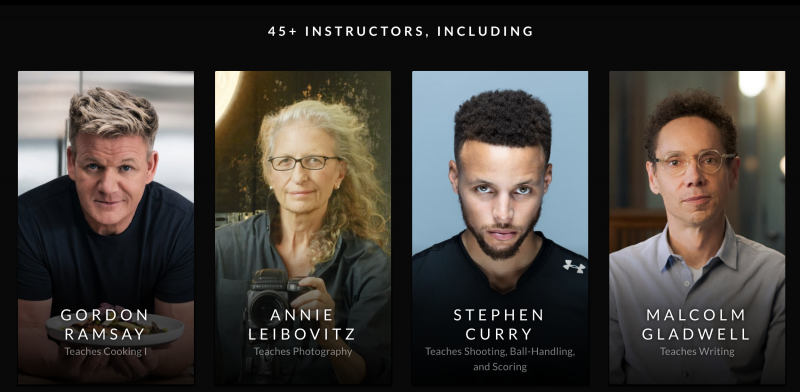 When starting this MasterClass and Mindvalley review, I did not expect to find differences in the essence of these companies. I had heard that both were dedicated to personal development. However, MasterClass focuses its purpose on developing people's creativity.
This I easily observed when browsing the categories of their website. Most are aimed at developing arts-related skills. For example, Music, Films, and TV. And at the other disciplines, creativity is essential to be successful. Like Sports, Games, Business, Politics, and Society.
Of course, the essence of MasterClass also catches the attention of digital nomads. And it is that to work traveling the world, we need to be competent in what we do. For this, we must enhance our creativity.
How Do MasterClass And Mindvalley Work?
In this MasterClass and Mindvalley review, I got a similar behavior on both platforms. Basically, in both, you gain knowledge through short video-recorded classes. On average, each course has between 20 and 40 lessons. Being able to divide the content into shorter videos from 5 to 15 minutes.
However, Mindvalley's quests are longer on average than the courses you get through MasterClass. And on both platforms, you can access lessons online or download them to your digital devices to see them later.
On the other hand, there are some differences in terms of the communication channels they use. You will also see differences in prices and their free promotions. Let's see what this is like, shall we!?
Start transforming your life with Masterclass!
Accessing Content
Both in MasterClass and Mindvalley, you can see the lessons from any place and device. This, thanks to the fact that both platforms have an application to access classes from your mobile or tablet.
Also when doing this review of MasterClass and Mindvalley, I found that it is easy to see the content through social networks. This is good for digital nomads because they will be able to enter from Twitter, Instagram, Facebook, Youtube, and LinkedIn.
But here is another difference. In addition to the lessons, I was able to listen to some Mindvalley podcasts. They are short audios recorded by personalities who speak on topics related to quests. You can get notifications if you subscribe to Mindvalley's iTunes and Spotify channels.
For example, I really liked being able to listen to a podcast from NBA superstar, Reggie Jackson. In it, he talks about how visualization helps you achieve your sporting achievements. Furthermore, he talks about his planning to improve himself every day.
What Is Free And What Is Paid?
Here I show you separately the results of the MasterClass and Mindvalley review.
You can get the MasterClass All-Access Pass by paying 180 USD. With this, you have access to the entire catalogue of the platform for one year. Eventually, you must renew the license. Thus, you have access to more than 85 classes, with an average of 20 lessons per class, and 10 minutes per lesson.
In MasterClass, you decide which classes to watch. So, you can be in a chef Gordon Ramsey class, and stop momentarily to see a lesson from another chef. For example, it could be a lesson from Tomas Keller's Meats, Stocks, and Willows.
But in MasterClass, there are lessons free too. In certain jurisdictions, you can access MasterClass Free Trial All-Access Pass for one day. And at the end of this period, the annual cost is automatically charged to you the payment method that you register at the beginning.
Now let's talk about Mindvalley. On this platform, you pay $ 595 for full access to all courses. In the MasterClass and Mindvalley review, I verified in the first fifteen days that this platform has more than 30 quests.
The good thing is that they do the Mindvalley Life Assessment. This is a 22-minute test that tells you the areas of your being that you must attend to first. I used these results and took a quest for the area that I need to reinforce.
Besides, you can test the quality of the platform with some free Mindvalley courses. For example, I enrolled in Vishen Lakhiani's "The Three Keys to Transformative Learning" course. It seemed great what he discussed, and his way of explaining was very clear.
Guarantees Of These Learning Platforms
In MasterClass you have a guarantee for 30 days after the date of purchase. If you are not satisfied with the learning experience, your subscription will be refunded. On the other hand, in Mindvalley, the guarantee is for 15 days. If you decide to cancel it in this period, they also return your entire subscription.
Excellent Lessons
I have no bad things to say about the lessons in this MasterClass and Mindvalley review. Both learning platforms really have excellent quality videos. These are short, with clear and in-depth explanations.
Also, each lesson is a very pleasant experience on any of these platforms. The reason is that you can watch the videos whenever you want and even from the comfort of your bedroom. This is very convenient for any digital nomad, and even more so in these times of social quarantine.
MasterClass and Mindvalley Categories
MasterClass has the lessons classified into eight categories. These are:
Writing
Music and Entertainment
Culinary Arts
Film and TV
Business, Politics and Society
Games Design and Sports
Photography, Fashion, and Lifestyle
Science and Technology
For its part, Mindvalley classifies its quests as follows:
Mind
Performance
Body
Soul
Work
Relationships
Kids, Teens and Parenting
The Instructors
MasterClass and Mindvalley have world-renowned and experienced instructors. Like guitarist Carlos Santana, film director Martin Scorsese, and tennis player Serena Williams, in MasterClass. And also, Jim Kwik (accelerated learning, fast reading, brain performance, …), Marisa Peer (Britain's # 1 hypnotherapist), and Vishen Lakhiani (learning and personal development), at Mindvalley.
To test the quality of the instructors, I signed up for Be Extraordinary with Vishen Lakhiani and Business Leadership with Howard Schultz. They are extraordinary instructors. Then, I will continue my personal development on both learning platforms.
There are veteran teachers available for different careers in Masterclass listed below:
Other masterclass reviews,
Mindvalley Vs. MasterClass
After what you have read in this MasterClass and Mindvalley review, you will have already formed an opinion of these learning platforms. But for us all to be happy, beloved digital nomads, here is my conclusion.
As I said, if the creative part catches your attention or you have an artist hidden inside you, you had better enrol in MasterClass. If you are looking to elevate your spirit and develop your awareness, I recommend Mindvalley.
Among the different criteria that I presented in this MasterClass and Mindvalley review, in my opinion, the main points of comparison are the following:
Although both platforms have excellent videos, as far as image and sound are concerned, I stick with those of MasterClass.
MasterClass instructors have better credentials that support their experience and knowledge. In turn, Mindvalley instructors use better motivational techniques. Hence, this platform has a lower dropout rate in its courses.
Mindvalley talks and podcasts are a plus compared to the communication channels MasterClass uses.
MasterClass does not grant course certification or any masterclass discount, while at Mindvalley, you get the certificate when you finish each quest.
Mindvalley is biased towards Eastern religious practices.
Really, in general, I think that these two learning platforms are excellent. But which one is better than another for you, depends on which skills you want to reinforce.